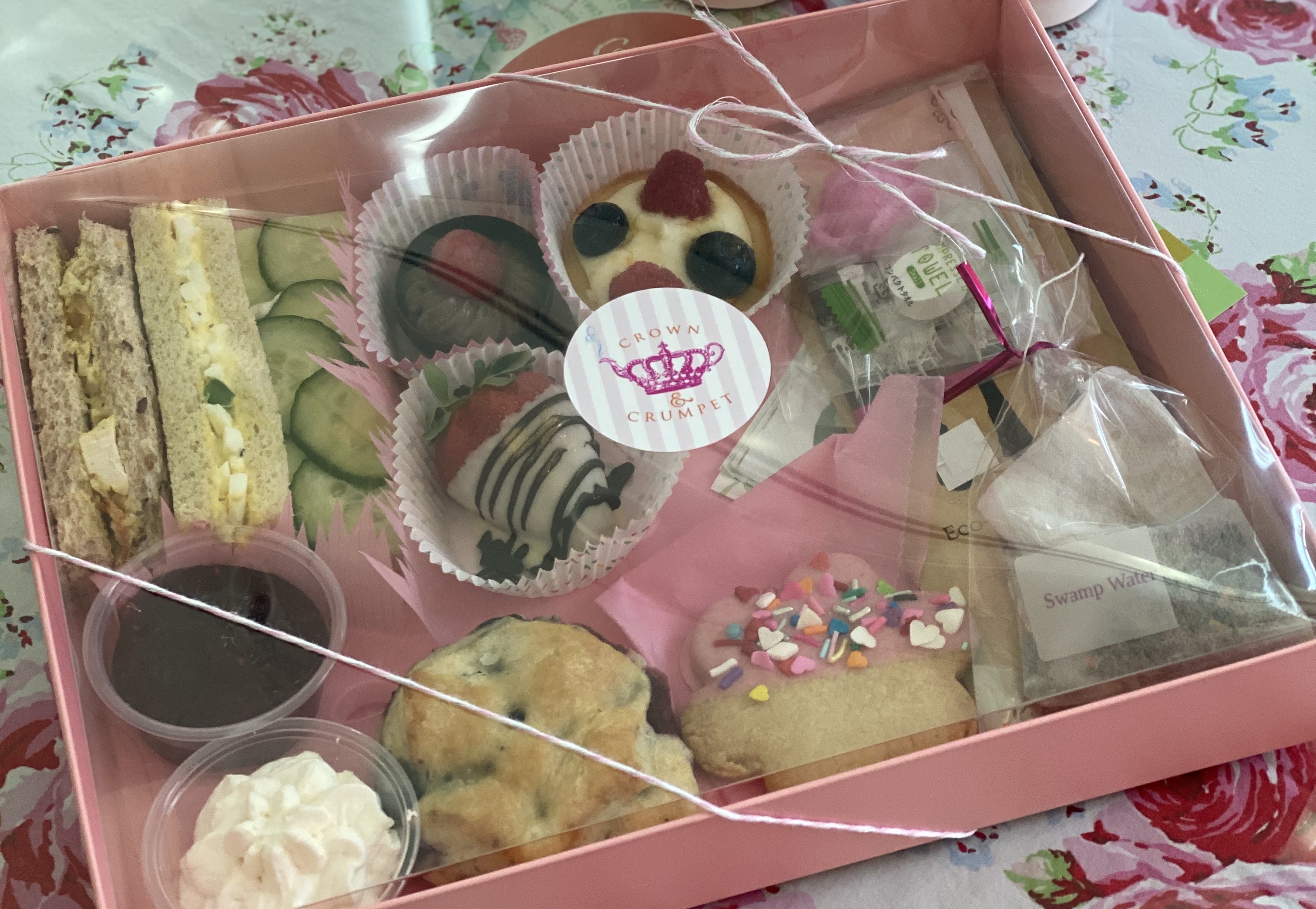 Enjoy in the comfy surroundings of your home or an outdoor socially-distant tea party!
Such thrilling news after all the dreary Covid-19 shelter-in-place blather, Crown & Crumpet Tea Salon has created a delightful Afternoon Tea service for you to enjoy in the comfy surroundings of your home or perhaps you might plan an outdoor tea party that is socially distant or an online meet up. Until we are allowed to open up for in house dining in mid July, A Tea Party in a Box is the perfect antidote.
We are back in our kitchen creating our delicious traditional tea sandwiches, scones, crumpets and sweets & treats, all packaged up for you to come and pick up from our Post St. location in San Francisco and by special arrangement, our Marin location in Ross (which isn't open yet, but will be soon!). We can also arrange delivery within San Francisco or further afield just discuss with Amy when you ring to place your order.We will be adding to our menu selection as the days move along. This week we have our Cream Teas, the Tea Party in the Box and a few other goodies!
Here's how it works:
---
Ring Amy on 415-771-4252 between the hours of 10:00 to 6:00 pm at least 24 hours before the day your want the order or before Thursday to book your Tea Party. box for the weekend. Amy will get all your details including your choice of teas for each person and any dietary restrictions and an email address. Then you will get an email invoice through Square. Once you have paid it we will see it and know that all is tickety-boo. Then, one of our mask wearing, gloves on hands, Trolley Dollys will be ready to greet you at the doors of 1746 Post Street on Friday, Saturday or Sunday. 
What's inside the "Tea Party in a Box" per person?
---
It includes three tea sandwiches, a scone with clotted cream & jam, four sweets and your choice of a loose leaf tea. We also include all the little bits you need to have a proper tea party; wooden utensils, floral napkin, soap leaves and a compressed towel and some other lil'goodies! COST: $30.00
Our Cream Tea is two scones, jam and clotted cream and your choice of loose leaf tea is $12.00.
Extra Tea Sandwiches: $9.00 for 4 pieces. Extra Sweets:  $9.50 for 4 pieces Extra Scone $3.50 Crumpet $2.00 Fairy Cake in a Box $4.50 1 Dozen Scones in a Box with Jam & Clotted Cream $58.00/$29.00 for 1/2 dozen 1 dozen Crumpets in a Box with Jam $32.00 Lemon Curd $4.50/$9.00
Delivery $10.00 with in SF Delivery to Marin $15.00. Delivery Beyond: Ring Amy and discuss!
Details:
---
**Orders must be in no later than Thursday 6:00 pm for weekend pick up** and 24 hours before for weekday pick up. Be sure to order one Tea Party in a Box for each person so that everyone gets to try everything!
We can do a Gluten free Afternoon Tea for you but you must tell us at the time of booking. Its $6.00 extra.
You must let us know about any dietary restrictions at the time of booking. We can create a Vegetarian Afternoon Tea but not a Vegan one.
Have a peek at our website, under "Menu" for your choice of Tea.