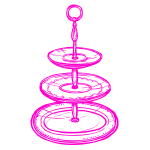 We open at 10:00 am for fresh baked pastries so you will get a delicious  start to your day. What a jolly good idea to start each morning with an espresso drink, a pour over coffee or hot tea as well as other beverages and  a tasty morsel  or two. Take it to go or stop a minute or two in our garden or parklet!

Our kitchen is open from 11 AM – 4PM for Lunch & Afternoon Tea
 Afternoon Tea $44
Includes three tea sandwiches, two savouries, one scone and a toasted crumpet served with jam, clotted cream and lemon curd a well as four sweets and your choice of tea.
Nursery Tea $28
 (for 11 yrs and younger & 65 yrs and older)
Three kiddo friendly sandwiches, a scone with clotted cream & jam and three sweets and treats plus hot chocolate or caffeine free tea.
Crown Craft $6.00
Keep the little ones busy.. A crown with stickers to decorate & wear.
Ask your Trolley Dolly if you'd like to make your tea gluten free! (additional $6).
To share the Afternoon Tea there will be an $15 split plate charge.
Minimum $10 per person. Thank you for your understanding.
For parties of six or more, we add a 20% gratuity.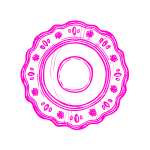 (The following is available for take away or dining in)
Assorted Freshly Baked Pastries from $4
Two warm Fruit Scones $12
Served with jam & clotted cream.
Avocado Toast $18
Served on a crumpet with mixed greens

Two Toasted Buttered Crumpets $12
Served with jam or a chocolate/hazelnut spread.
Chicken Pot Pie  $20
Roasted breast of chicken in a creamy sauce with petite peas, carrots, onions & celery with puff pastry cap, served with mixed greens.
Sausage Rolls $20
Chicken and apple sausages wrapped in puff pastry, served with mixed greens and kettle crisps.
Smoked Salmon $18
Served on a croissant with crème fraiche & dill
Sandwiches  $18
Choice of bread: plain baguette, pretzel baguette, plain croissant, pretzel croissant or on a bed of organic greens.
(sometimes we may be out of one of these so don't get mad!)

Served with organic mixed greens and kettle crisps
Honey roasted ham with English cheddar & Granny Smith apple

Coronation chicken salad, a light curried chicken salad with apricots 

and almonds

Classic egg salad with green onion & celery

Oven roasted turkey with cranberries & pecans

Sweets & Fancies from $4
A selection of Fresh Baked Cookies
Crumpets
Slice of Cake
Assorted Bars
Tea Sweets
Scones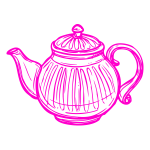 Crown & Crumpet Private Blend
Blended exclusively for us in the UK, an Assam & Darjeeling mixed with a bit of Keemun
Earl Grey
Elegant & refined because the Bergamot makes it fancy
Marie Antoinette
She lost her head over the love of roses, vanilla and strawberries in her tea!
Paris
Our most popular blend, vanilla & caramel are the high notes of this beloved French tea
Stardust
All that glitters & shines…citrus, cloves and sweet silver dragees make the perfect blend for your favourite Unicorn.
Strawberry Fields
A most beloved cuppa, this creamy blend of sweet strawberries and vanilla over green and matcha tea.
Minted Green
Cleanse your palate and lift your spirits. Tightly rolled gunpowder green tea blended with bright peppermint.
Jasmine
The union of China green tea with fresh jasmine flowers creates a delicious cup with a rich tradition. Each brew has the sweet and smooth fragrance of a garden in bloom
Blue Eyes
Hibiscus, rose hips, orange and apple come together with delicate cornflower blossoms to create a great tea for tots.
Swamp Water
Don't be put off by the name! An amazingly tasty Rooibos and fruit tea with pineapple, mango and passionfruit. Tropical with a sweet finish.
Keep Calm & Carry On
Cool and deeply refreshing, chamomile buds and peppermint leaves create an exceptionally uplifting blend that is caffeine-free and great for the tum!
Peach Crumpet
Calendula petals and natural peach flavor oils help to make this signature tea one of our house favorites.
Tieguanyin Oolong
As the rolled leaves steep, they unfurl slowly and release lush, honey-colored liquor and an orchid-like flavor that will delight the palate. This oolong is rich and is good for a number of infusions as the leaves release complex flavors plus it sucks up fat!
Lychee Congou
A black leaf tea flavored with the freshly squeezed juices of the Lychee fruit.This natuarly sweettea is made from a varietal grown in Fujian Province, the tea is fragrant and quite delicious served either hot or iced.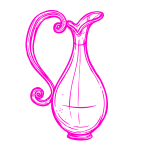 Large Pot of Tea $8
Tea to Go $3
Iced Tea $3
Hot Chocolate $5
Drip Coffee $4
Levinsohn Latte (decaf) $5.00
Cappuccino $4
Mocha $5
Espresso $4
Americano $4
Café Latte $5.00
Chai Latte $5.00
Babychino $2.50
Cold Brew $4
House-made Brown Sugar Lemonade $4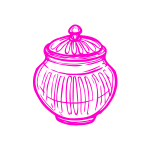 Trolley Dolly
Tea Options
(The following served with a pot of tea of your choice)
Tea Sandwiches (four)  $16
Scones (two) served with jam and clotted cream  $16

Toasted Crumpets (two) served with butter and jam  $16
A Slice of Cake  $16
Sweets & Treats (four bite-sized sweets)  $16